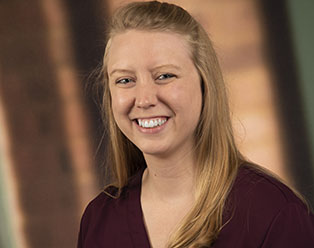 Make an Appointment
Accepting
New Patients
Specialties
Licensed Clinical Social Worker
Physician Group
Treatment and Support Center
Contact
Location
2630 22nd Street
Columbus, IN 47201
Get Directions
Education & Training
Education Master of Social Work, University of Southern Indiana, 2017; Bachelor of Social Work, University of Southern Indiana, 2016
Board Certification Licensed Clinical Social Worker
Biography
Alisha Scoville, MSW, LCSW is a Licensed Clinical Social Worker in Indiana. Alisha began providing therapy services in 2017 after obtaining her Master's Degree in Social Work from the University of Southern Indiana in Evansville, IN.
Alisha began her career as a Child and Family Therapist for Centerstone of Greensburg, Indiana and provided mental health, trauma, and behavioral therapy services for two years. Alisha has worked with diverse populations of all ages and backgrounds through her work and internship experiences.
Alisha works as an individual therapist and group therapist. Alisha is trained in addictions treatment and mental health services and has experience in treating co-occurring disorders, trauma, and behavioral issues. Alisha utilizes Cognitive Behavior Therapy, Motivational Interviewing, and Solutions-Focused Theory, while using a strengths based approach with all clients.
Outside of providing therapy services, Alisha enjoys coaching volleyball, reading, loving her dog and spending time with her family and friends.
Back to Search Results