Overview
Columbus Regional Health's Sports Medicine Center is committed to getting you back to your sports activity as quickly and safely as possible. With the latest in sports medicine technology, techniques and treatments, athletes from elite to weekend warrior, Little League to senior league, come here to make their comeback.
Our staff is all formally educated and clinically trained specifically for Sports Medicine. We take a team approach to your care, led by your physician and members of our Sports Medicine Team:
Eighteen Physical Therapists

Two Athletic Trainers

Three Occupational/Hand Therapists

Four Physical Therapy Assistants

Certified Fitness Instructors

Personal Trainers
We can help you make a quick return to training and competition with our individualized programs designed to meet your specific goals.
We treat a variety of conditions and injuries including, but not limited to:
Knee injuries

Shoulder injuries

Ankle sprains

Foot/heel pain

Back and neck strain

Hand and wrist problems

Hip pain

Arthritis

Overuse injuries

Post surgical conditions
Our services include, but are not limited to:
Therapeutic exercise

Sports progression - activities specific to your sport

Stretching/range of motion

Muscle re-education

Strengthening

Taping techniques

Warm Water Aquatic therapy

Ultrasound

Hot/cold therapy

Iontophoresis

Soft tissues mobilization

Joint mobilization

Stabilization

Balance

Body mechanics training
Aquatics
Aquatic Therapy helps reduce pain and stress on your joints, so you can recover faster. Aquatic equipment includes a water treadmill and stationary bike.
Augmented Soft Tissue Mobilization (ASTYM)
Scarring can cause pain and limit your normal activity. ASTYM treatment works by breaking down adhesions, or scarring, that develop during an injury. The Sports Medicine Center is one of the few locations in southeastern Indiana with ASTYM certified therapists.
Biodex Balance System
The latest in sports medicine technology, this balance system can help improve balance and stability in athletes as well as fall risk patients. The Sports Medicine Center is the only clinic in the area that currently offers this testing and training tool.
Computer Video Analysis System
This system lets our team look at your range of motion for things that can't be seen with the naked eye. For example, we can look at the biomechanics a golf swing, analyze for issues and treat the problem to help you resume your sports activities.
Sports Medicine Outreach
Members of our team talk to athletes and parents at the local high schools about injury prevention and what to expect in the event of an injury. Some of our sports medicine outreach activities include Mill Race Marathon, sports physicals at area schools, and Columbus Triathlon.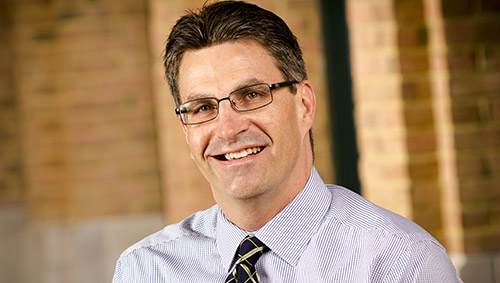 Our Medical Director
Dr. Cary Guse is the medical director for the sports medicine team. He is a certified orthopedic surgeon with Southern Indiana Orthopedics, and is fellowship trained in Sports Medicine. He has served on the medical staff for the Minnesota Vikings, Timberwolves, Wild, Twins, and Indianapolis Indians. In addition, he has served as the head physician for several high school teams and provided coverage for a number of national sporting events.
Columbus Regional Health is proud to be the official provider of sports medicine and athletic training services for Bartholomew Consolidated School Corporation (BCSC), Flat Rock-Haw Creek School Corporation (FRHC) and Brown County Schools.

Our Sports Medicine Team includes athletic trainers, physical therapists, physicians and other specialists who work with students to reduce the risk of injury and offer rehabilitation services when needed for faster recovery, to get athletes back in the game as quickly and safely as possible.

Learn more about concussions and treatment