In all settings, visitors must be 14 years of age or older, with exceptions in the Birthing Center and Pediatrics. The visitor guidelines for each hospital area will be as follows:
Tower Floors
Each tower floor will set their own visitor options. If patients or visitors have questions about visitor options, please direct them to the nurse manager/charge nurse on that floor.

ICU
Each patient is allowed two visitors at a time.

Outpatient services and procedures
Each patient is allowed two visitors or support persons to accompany them for their procedure or service.

Emergency Department
Each patient may have two visitors at a time. Switching of ED visitors will now be allowed.

Birthing Center/Pediatrics
During labor and delivery only, two support persons, such as a spouse, partner, sibling, or another person chosen by the patient (e.g. a Doula), may be allowed.

Postpartum, the mother may have two visitors at a time; sibling visitors may be under the age of 14.

Up to two parents may visit pediatric patients in the Level II nursery at a time.

One adult support person may remain with a patient in the Pediatric unit. If the child is in isolation, only parents, grandparents, or guardians may visit. Two visitors will be allowed at a time.

Mental Health
No visitors are allowed at this time.

In all areas, visitation exceptions will be allowed for end-of-life situations.
Limited Hospital Entrances
For the safety and convenience of staff, patients and visitors, a few entrances to facilities on the main hospital campus remain restricted. The following entrances are open to the public during the following hours:
Entrance 1 (Emergency Department) – open 24/7
Entrance 2 – open 5:30 a.m. to 8:30 p.m.
VIMCare/Laboratory Entrance -- open 5:30 a.m. to 8:30 p.m.
Entrance 3 (Main) – open 5:30 a.m. to 8:30 p.m.
Entrance 4 will function as an admit and discharge only location for Surgical Services and Endoscopy Center patients.
(Click image for interactive CRH hospital campus map)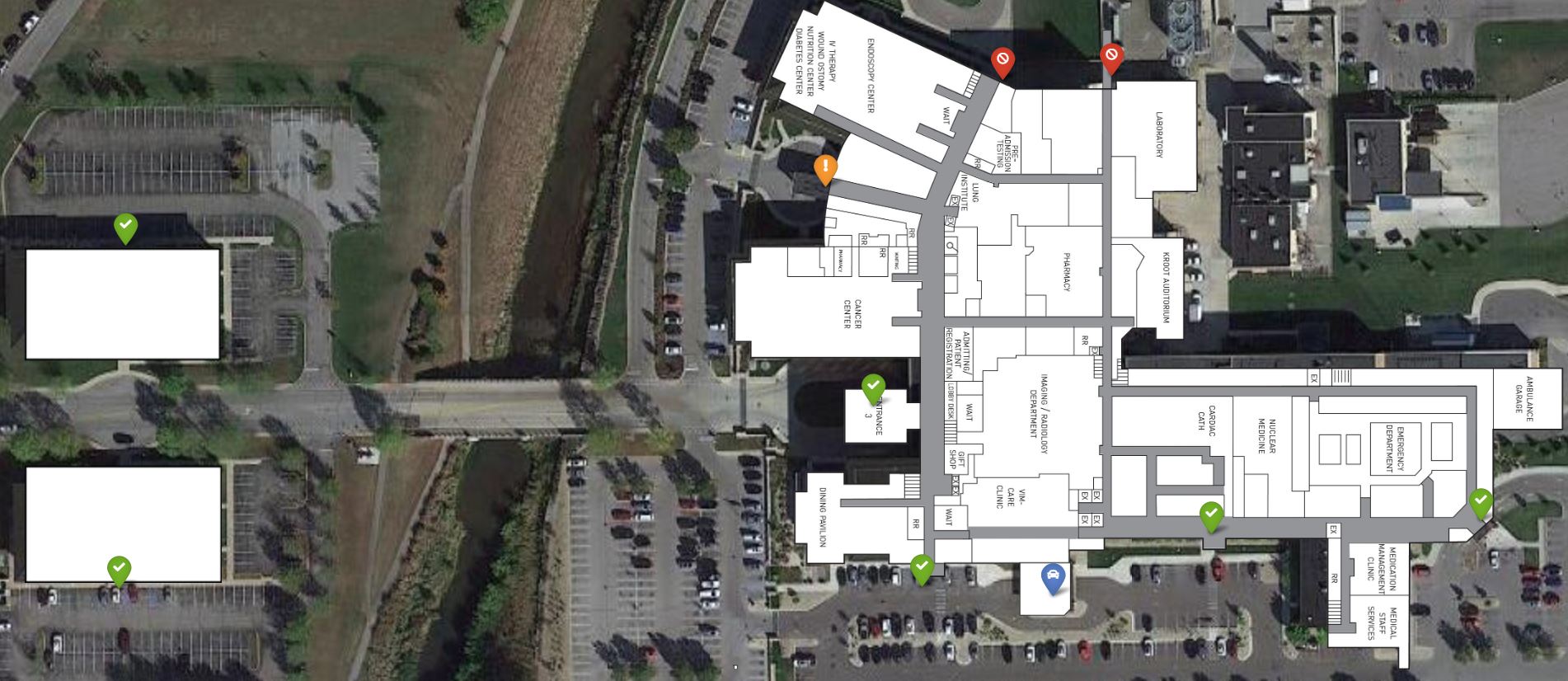 Want to reach out to a patient but can't visit in person? Try our Email a Patient form.