Overview
Bringing Wellness to a whole new level Columbus Regional Health's Wellness Center offers the best in personal service to help you achieve, maintain, and improve your health and well-being. Our goal at CRH is to be your Wellness Partner for Life. Located in the Mill Race Center, this community health facility for active adults is part of the landscape at the award-winning Mill Race Park in Columbus.
Fitness Facility
The Wellness Center includes an innovative Fitness Facility with internationally top rated, age-friendly cardio and strength equipment designed to make your workout more effective, safe, and fun. The floor to ceiling windows look out over the beautiful Mill Race Park. The view of the park, versatile equipment and qualified personnel create the ultimate workout experience.
Certified trainers will work with members to develop personal fitness plans on the easy to use weight training and cardio equipment. The Fitness Facility is open Monday through Thursday 6:30am-7:00pm, Fridays from 6:30am-5:00pm and Saturday 8:00 am-noon. Stop by or call, 812-376-5808, to schedule a tour. Staff trainers are available by appointment for new member equipment orientation and program design.
Classes and Education
Health education seminars, wellness screenings, support group information and personal training are all services offered at the Wellness Center. In addition, a variety of Group Wellness Exercise classes are available. Strength training, Yoga, Pilates, Silver Sneakers, Tai Chi, Warm Water Workout and Tabata are all available to Fitness Facility members. Classes are held at the Mill Race Center location as well as Marr Road Rehabilitation Center.
Physical and Occupational Therapy
The Wellness Center at Mill Race Center also houses The Rehabilitation Center which offers full service physical and occupational therapy. The experienced team of therapists is available to treat your injury or illness and assist in recovery. Getting you back on your feet so you can live life to its fullest is our goal. We want to be partners for life.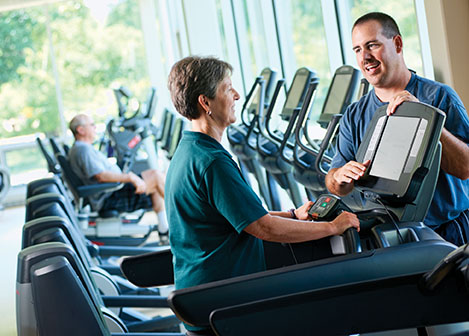 Membership and class schedule
Registration for a Wellness Center Membership, which includes use of the facility and all classes, can be done at the Columbus Parks and Rec web site or by calling 812-372-2680.