Overview
Columbus Regional Health's Wound Center is an advanced facility that offers the latest in wound care technology and care. This outpatient facility allows physicians and nursing staff to work on individualized care plans for patients with chronic wounds.
The Wound Center includes physicians and nurses trained as specialists in wound healing treatment and Hyperbaric Oxygen Medicine. The addition of nursing staff allows for individualized case management at each visit and access to the physician on a regular basis, which allows for more extensive wound treatment to accelerate the healing process. Wound care services include, but are not limited to debridement, bioengineered skin substitutes, Hyperbaric Oxygen, VAC therapy, and total contact casting.

We work with referring physicians to determine a complete set of wound care procedures to address each patient's individualized needs. Our staff is trained to aggressively manage wounds to ensure they heal quickly and completely.

We provide all patients with dedicated and specialized attention, enabling them to return to a full life, free from the pain of chronic wounds.

Wound care is helpful for:
Diabetic wounds
Pressure ulcers
Venous stasis ulcers (cause by poor blood circulation, usually of the legs)
Arterial ulcers
Vasculitic ulcers
Non-healing surgical wounds
Complex soft tissue wounds
Traumatic wounds
Infected wounds
Hyperbaric Oxygen Therapy (HBOT), which is administered on a daily basis, allows a patient to breathe 100 percent oxygen (2-3 times greater than atmospheric pressure), resulting in an increase of 10-15 times in plasma oxygen concentration. This increased oxygen in the tissue creates the optimal environment for the body's natural healing processes to repair damaged tissue.

By forcing more oxygen into the tissue, HBOT encourages the formation of new blood vessels. As new blood vessels develop, the red blood cells start to flow, delivering even more oxygen to the affected area. This creates the optimal environment for the body's natural healing processes to repair damaged tissue.

Hyperbaric Oxygen Therapy is effective in treatment of:
Diabetic wounds of the lower extremities
Radiation injury, such as osteoradionecrosis (bone) or radionecrosis (soft tissue)
Infection of the bone
Compromised skin graft/flap
Crush injuries
Necrotizing infections (bacterial infections that destroy the muscle, skin and underlying tissue)
Gas gangrene
Arterial insufficiency (condition that stops or slows blood flow to arteries)
Acute carbon monoxide poisoning
The Wound Center also offers a Limb Preservation Program. This program is one of only a few such programs in Indiana and specializes in treatment of patients with vascular disease or diabetes who are at risk for leg and foot amputation.

Our team consists of vascular surgeons, podiatrists and other experts dedicated to healing wounds and preventing amputations.

A nurse navigator will guide and support patients while in the program, connecting them to resources and services needed for their individual care plan. Additionally, our nurse navigator is available by phone and at clinic appointments to provide education and answer questions.

The patient's primary care provider is kept informed of treatment and progress to ensure seamless coordination of care.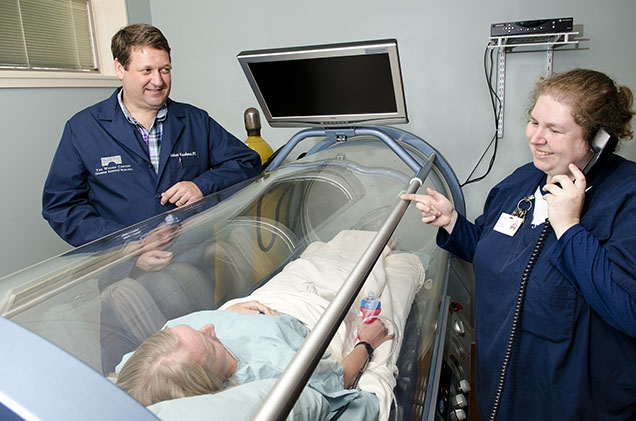 Preparing for Your Visit
Most patients do not suffer from claustrophobia. Once inside the hyperbaric chamber, you will be able to see out in all directions and there is always an attendant in the room during your treatment. For those patients still feeling anxious about their treatment, the hyperbaric physician can prescribe medication that will relax you and make your treatment less stressful.

The only sensation you will experience is during the beginning (compression) phase of the treatment. The slowly increasing pressure will push on your eardrum. This is exactly the same feeling you would experience when landing in an airplane or diving to the bottom of a swimming pool. The Wound Center staff will instruct you on the different methods of relieving this ear pressure.
Safety
HBOT is very safe as long as all the precautions are followed. As a patient, you will be given detailed information prior to your first treatment. Our staff will ensure your safety and make your therapy comfortable and stress free.
It is extremely important that you do not use tobacco products during your course of hyperbaric oxygen therapy. The nicotine and carbon monoxide in tobacco products diminish the process of healing and reduce the effectiveness of the treatment.
Please do not drink any soft drinks or gas-producing foods 2 hours prior to your treatment. The carbonation and/or gas produced by some foods can cause stomach or bowel distress either during compression or decompression of the chamber.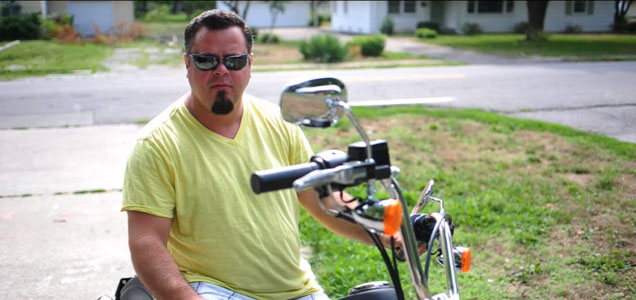 Shane's Story
After a leg injury threatened to keep him off of his motorcycle, Shane began hyperbaric oxygen treatment with the goal of a quick recovery.
Watch Video
100%
oxygen
used to treat wounds
The Science Behind HBOT
Breathing 100% oxygen under pressure causes the oxygen to diffuse into the blood plasma. This oxygen-rich plasma is able to travel past the restriction, diffusing up to three times further into the tissue. The pressurized environment helps to reduce swelling and discomfort, while providing the body with at least 10 times its normal supply of oxygen to help repair tissue damaged by the original occlusion or subsequent hypoxic condition.
Hyperbaric Oxygen Therapy also encourages the formation of new blood vessels. As these new blood vessels develop, the red blood cells start to flow, delivering even more oxygen to the affected area. This creates the optimal environment for the body's natural healing processes to repair damaged tissue.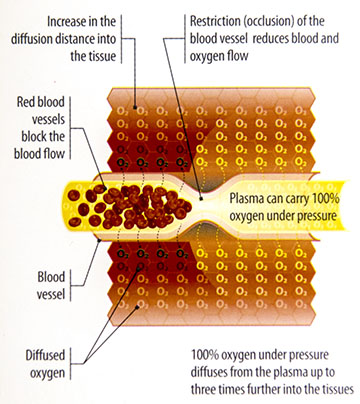 Our Wound Care Team