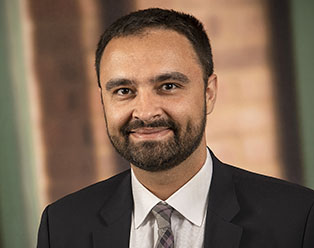 Make an Appointment
812-376-5550
Accepting
New Patients
Specialties
Hematology
Oncology
Physician Group
The Cancer Center of Columbus Regional Health
Contact
812-376-5550
Location
2400 E. 17th Street
Columbus, IN 47201
Get Directions
Education & Training
Education Christian Medical College (India)
Board Certification Internal Medicine
Residency Johns Hopkins University/Sinai Hospital of Baltimore
Fellowship University of Louisville
Background and Education
Dr. Gill graduated from Christian Medical College, Ludhiana, India, in 2009. He completed internal medicine residency at Johns Hopkins University/Sinai Hospital of Baltimore in 2015, where he was chief resident from 2015-2016. Dr. Gill completed clinical fellowship in hematology and oncology at the University of Louisville in 2019.

Memberships & Publications
Dr. Gill is a member of American College of Physicians, American Society of Clinical Oncology, and American Society of Hematology. He has contributed to a number of publications on topics including lung cancer, cancer survivorship, lymphomas of the head and neck, and metastatic melanoma, among many others. His work has been published in multiple publications, including, the American Journal of Clinical Oncology, American Journal of Medical Sciences, Seminars in oncology, and others. Dr. Gill has authored three book chapters in the book, Global Perspectives on Cancer. He has also authored a chapter on immunotoxicity in an upcoming online textbook of thoracic oncology.

Family & Personal Interest
Dr. Gill is very interested in the biology behind the disease of cancer and is excited about the many medical advances to come. He enjoys getting to know his patients and forming a relationship with them.

Dr. Gill enjoys spending time with his family. His wife is training to be a cardiologist and together they have a baby boy. Dr. Gill also likes watching movies, hiking, trying new restaurants, and playing tennis.
Back to Search Results