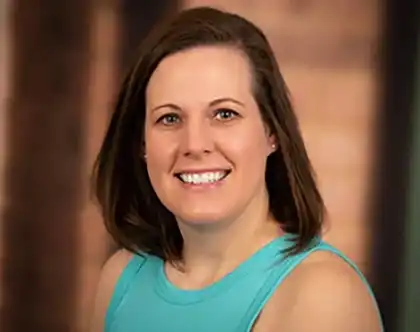 Make an Appointment
Specialties
Psychiatric Mental Health
Physician Group
Rau Family Medicine
Contact
Location
3201 Middle Road
Columbus, IN 47203
Get Directions
Education & Training
Education IUPUC
Biography
Angela "Angie" Nielsen is a psychiatric mental health nurse practitioner. Angie graduated from Indiana University in 2016 with her Master's Degree in Nursing. Prior to this, she worked as an RN for 7 years in an inpatient psychiatric setting.
Angie began practicing outpatient psychiatric care in 2016 and works in collaboration with a psychiatrist, Dr. Michael Stark. Angie currently sees patients across the lifespan from ages 6 to 106 for a broad range of mental health diagnoses. She sees children and adults who are diagnosed with Autism Spectrum Disorder and intellectual disabilities to treatment mood and behavioral issues associated with these diagnoses. She sees patients with a variety of mood disorders and psychotic disorders as well.

While Angie provides mainly psychiatric medication management, she often will assist with referring clients to a psychotherapist when appropriate, or refer to other services such as addiction care when appropriate.

Angie's patient list is currently full, and she is not accepting new patients at this time.
Back to Search Results