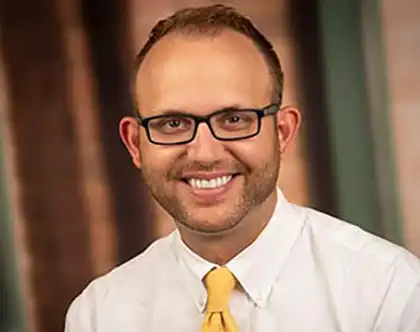 Make an Appointment
812-372-1581
Accepting
New Patients
Specialties
Obstetrics and Gynecology
Physician Group
OB/GYN Associates
Contact
812-372-1581
Location
3188 N National Road
Columbus, IN 47201
Get Directions
Education & Training
Education Indiana University School of Medicine
Residency University of Louisville Hospital
Brenden Barker, a native of Greensburg, IN, was born at Columbus Regional Health.

He graduated valedictorian from Greensburg Community High School and received his Bachelors of Science from Xavier University and his Medical Degree from Indiana University School of Medicine.

He previously worked at Cincinnati Children's Hospital and Medical Center where he completed research on Acute Myeloid Leukemia and Myelodysplastic Syndrome. In medical school, Brenden was president of the only student-run free medical clinic in Terre Haute, IN. He was chosen as the recipient of the most outstanding community rural health project during his final year of medical school. In residency at the University of Louisville, he was chosen as the most outstanding resident educator in 2018. He was later selected as a chief resident during his final year of training and served three-years on the University of Louisville House Staff Council. In 2021, Brenden was chosen as the Most Outstanding Resident in the University of Louisville OB-GYN Residency Program.

Brenden is married to Natalie, a native of Cincinnati, OH. Together, they have two beautiful daughters: Reese and Emma. Brenden particularly enjoys attending sporting events (IU, Colts, Pacers, Notre Dame, Xavier), being outside with his wonderful family, attending community festivals, and taking family vacations!
Back to Search Results