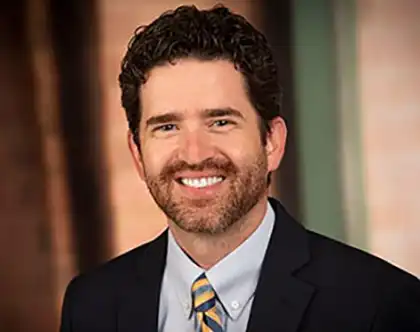 Make an Appointment
Accepting
New Patients
Schedule an Appointment
Specialties
Family Medicine
Physician Group
MyCare Family Med
Contact
Location
4001 Goeller Boulevard
Columbus, IN 47201
Get Directions
Education & Training
Education A.T. Still University - School of Osteopathic Medicine, Mesa, AZ
Residency Memorial Hospital of South Bend
Biography
Dr. Jones was born and raised in Cincinnati, Ohio, until the age of 11, when his family moved to a small farm outside of Madison, Indiana.
He attended Brigham Young University in Provo, Utah, for his undergraduate degree and A.T. Still University-School of Osteopathic Medicine in Arizona, for his medical degree. He became board certified in Family Medicine after completing his Family Medicine residency at Memorial Hospital in South Bend, Indiana.
Dr. Jones and his wife have four children. Together as a family, they love to be outdoors, try new foods, and travel.
Schedule an Appointment
Make an appointment by phone: 812-375-3330
To make an appointment online, please select whether you are a new or existing patient:
If you're already a patient with Columbus Regional Health, please use your MyChart patient portal which has more features and functionality available.
Back to Search Results