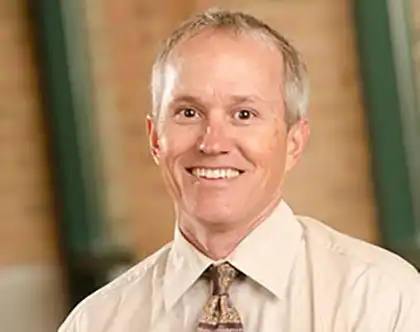 Make an Appointment
Accepting
New Patients
Specialties
Surgery General
Physician Group
Columbus Regional Health General Surgery
Contact
Location
2325 18th Street
Suite 220
Columbus, IN 47201
Get Directions
Education & Training
Education Indiana University School of Medicine
Board Certification General Surgery
Residency University of Kentucky
Fellowship St. Vincent Hospital Indianapolis
Dr. David Thompson is board certified in general surgery, and he has had advanced training in laparoscopic procedures. He previously was chief of surgery at Columbus Regional Health and chief of staff from 2012-14. He is a member and fellow of the American College of Surgeons and Society of American Gastrointestinal Endoscopic Surgeons (SAGES) and a member of the American Society of Breast Surgeons.
Dr. Thompson earned his Bachelor of Science from Indiana University in 1987. He continued on to the Indiana University School of Medicine, completing the M.D. program in 1991. Both his surgical internship and surgical residencies were at the University of Kentucky. He was named diplomat of the American Board of Surgery in 2000. Upon completion of his fellowship in laparoscopy, endoscopy and ultrasound at St. Vincent Hospital and Health Center in Indianapolis, Dr. Thompson began to practice in 1996.
He previously was a board member for the Hospice of South Central Indiana for a decade and served as president for two years. Dr. Thompson has been affiliated with St. Vincent Jennings Hospital since 1997 and sits on its medical executive committee.
Back to Search Results