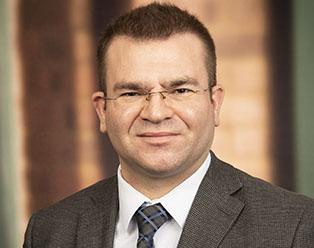 Make an Appointment
Accepting
New Patients
Specialties
Interventional Cardiology
Physician Group
Southern Indiana Heart & Vascular
Contact
Location
2325 18th Street
Suite 130
Columbus, IN 47201
Get Directions
Education & Training
Education Marmara University School of Medicine, Istanbul, Turkey
Board Certification Cardiovascular Medicine, Interventional Cardiology, Nuclear Cardiology, Echocardiography
Residency John H. Stroger Hospital of Cook County, Chicago, IL
Fellowship Bridgeport Hospital, Yale New Haven Health, Bridgeport, CT (Cardiovascular Medicine, Interventional Cardiology)
Languages | Speak
Turkish, English and German (fluent); Spanish, Adighabze (basic)
Biography
Dr. Nargileci was born and raised in Germany. During his teenager years, his family moved to Turkey where he received a medical degree from the Marmara University School of Medicine after ranking in the top 1% nationwide.
After starting training in cardiovascular surgery at Istanbul University, Dr. Nargileci moved to the United States and completed his residency training in internal medicine at the Cook County Hospital in Chicago, Illinois, in 2010.
While working in one of the largest county hospitals in the United States, Dr. Nargileci took great pride in treating a diverse set of patients with no access to health care. Due to his work with this patient population, he was appointed the Humanitarian Award for dignified, respectful, and confidential treatment of his patients.
Subsequently, Dr. Nargileci joined Norwalk Hospital in Connecticut, a Yale-affiliated community-based teaching program, where he instructed internal medicine residents and medical students as a hospitalist for four years.
After gaining strong clinical problem-solving skills, Dr. Nargileci took a position as a research associate at the Yale Cardiovascular Research Group in May 2014, to enhance his knowledge in research and clinical trials. He coordinated the implementation of four stent trials.
In July 2015, he started his Fellowship in cardiovascular medicine at the Yale New Haven Health - Bridgeport Hospital where he received solid, evidence-based training in general cardiology and interventional cardiology.
Dr. Nargileci takes ownership of the care of his patients and invests himself in their care beyond their procedure or hospital stay. He strongly believes in educating his patients about their disease through sincere, sympathetic, reliable communication, which helps him understand his patients and build a relationship based on trust.
Dr. Nargileci moved to Indiana in June 2019, seeking to raise his family in a safe, kid-friendly, diverse community. As a Turkish German immigrant driven by the American dream of progress and improvement based on honesty and hard work, Dr. Nargileci joined CRH knowing that he can contribute to the community. His motto for life is "Don't pay back, pay it forward."
Dr. Nargileci enjoys outdoor camping, traveling, gardening, fishing, and gathering with friends for a nice Turkish-style barbecue. He and his wife, Madina who is a registered nurse at Columbus have a 5 year old son and a 3 year old daughter.
Back to Search Results