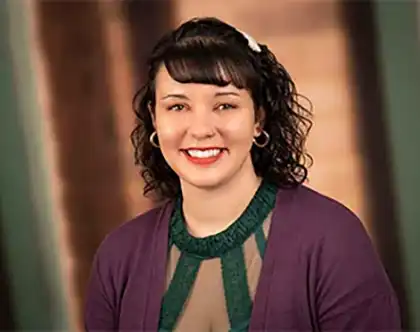 Make an Appointment
Accepting
New Patients
Specialties
Licensed Mental Health Counselor
Physician Group
Treatment and Support Center
Contact
Location
2630 22nd Street
Columbus, IN 47201
Get Directions
Education & Training
Education IUPUC (BA in Sociology and MA in Mental Health Counseling)
Board Certification Licensed Mental Health Counselor
Jessica Gorham, CHW/CRS, BA, MHC, LMHC-A, is a Licensed Mental Health Counselor Associate (Associate: graduate within the first two years of a professional counseling career). Jessica began her counseling career as an intern at the Treatment and Support Center (TASC) of CRH while working on finishing her Masters in Mental Health Counseling degree at Indiana University Purdue University-Columbus (IUPUC). Jessica began her career as an individual therapist and intensive outpatient group therapist at TASC in 2021. During the first year at TASC, she created an (IOP) group program that fused Substance Abuse and Mental Health Administration (SAMSHA) Matrix content with Equine Assisted Learning in collaboration with a local therapeutic riding organization Reins to Recovery.
Upon graduation from IUPUC for the second time in August of 2022, she was brought on to the staff at TASC as a full-time Addiction Therapist. Since being brought on full-time she now provides individual therapy services and outpatient group services, which include intake assessments, therapy sessions, administration of assessments, creating/updating treatment plans, and facilitating outpatient groups with clients who have various levels of treatment needs.
Prior to working on her Master's degree in Mental Health Counseling, she obtained a Bachelors in Sociology and was certified as a Peer Recovery Specialist. During the time spent working on credentialing and degree completion she was a stay-at-home mother of her two children and an active community member.

Community involvement includes working with the Guardians of Legado, Columbus Enrichment Program, Big Brothers Big Sisters, Book Buddies, Alliance for Substance Use Progress (ASAP), Bartholomew County Substance Abuse Council where she served as an Executive team member for the past three years, and the National Association for the Advancement of Colored People (NAACP). She has been a part of re-establishing the NAACP Juneteenth event in Columbus and chaired the event committee in 2022. Outside of providing therapy services she continues her community involvement and spending time with her family and friends.
Back to Search Results