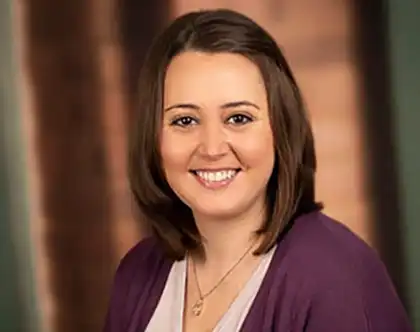 Make an Appointment
Accepting
New Patients
Specialties
Psychiatric Mental Health
Physician Group
MyCare Family Med
Contact
Location
4001 Goeller Boulevard
Columbus, IN 47201
Get Directions
Education & Training
Education IUPUC (BSN), IUPUI (MSN)
Board Certification ANCC Psychiatric-Mental Health Nurse Practitioner (PMHNP)
Jodi Herche is a Psychiatric Mental Health Nurse Practitioner. Jodi's career started at Columbus Regional Health in 2013 as a Certified Nursing Assistant. Working as a nursing assistant throughout nursing school, she quickly discovered a passion for those diagnosed with a psychiatric illness with the ultimate goal to assist mental health populations in reaching their full potential.
Jodi transferred to the inpatient mental health unit at Columbus Regional Health and worked as a mental health technician until she obtained a Bachelor of Science in Nursing, becoming a Psychiatric Registered Nurse. Jodi then devoted herself to psychiatric nursing while working to obtain a master's degree. She subsequently became a certified Psychiatric Mental Health Nurse Practitioner in 2022.
Working in collaboration with psychiatrist, Dr. Michael Stark, she specializes in diagnosing mental health disorders with the adjunct of medication management for populations of ages 6 years and above.
In her leisure time, Jodi enjoys spending time outdoors, traveling, camping, and spending quality time with her family and two dogs.
Back to Search Results