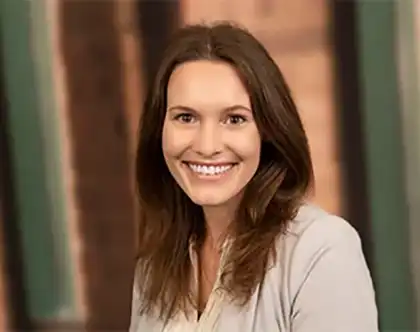 Make an Appointment
Accepting
New Patients
Specialties
Hospice and Palliative Care
Physician Group
Our Hospice of South Central Indiana
Contact
Location
2626 E. 17th Street
Columbus, IN 47201
Get Directions
Education & Training
Education Indiana University School of Medicine, Indianapolis, IN
Board Certification Internal Medicine
Residency St. Vincent Hospital, Indianapolis, IN
Fellowship IU School of Medicine (Hospice and Palliative Care)
Dr. Leigh Anderson is the new Medical Director of Our Hospice of South Central Indiana and the Palliative Care Clinic at CRH.
She graduated from Purdue University in 2014, majoring in speech, language, and hearing sciences with minors in chemistry and biology. Dr. Anderson went on to Indiana University School of Medicine. She spent her preclinical years on the IUSM South Bend campus, transitioning to Indianapolis for her clinical training.
After graduating from medical school in 2018, she matriculated in the internal medicine residency at St. Vincent Hospital in Indianapolis. Upon completion of residency, Dr. Anderson moved back Indiana University School of Medicine for a hospice and palliative medicine fellowship.
She is passionate about ensuring medical interventions align with patient values, and she is excited to care for patients of CRH and surrounding counties.
Back to Search Results