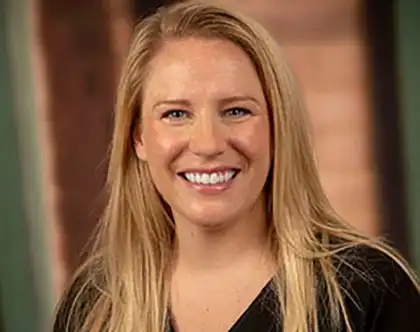 Make an Appointment
Accepting
New Patients
Specialties
Advanced Practice Nurse Practitioner
Certified Nurse-Midwife
Women's Health Nurse Practitioner
Physician Group
Southern Indiana OB/GYN
Contact
Location
2450 NorthPark
Suite A
Columbus, IN 47203
Get Directions
Education & Training
Education IUPUI (BSN); Vanderbilt University (MSN); University of Indianapolis (MS in Nurse Midwifery)
Board Certification Nurse Midwifery, Women's Health Nurse Practitioner
Biography
Nicole has been passionately caring for women, babies and their families since she graduated with her bachelors degree in Nursing from Indiana University Purdue University in Indianapolis in 2010. She joined Southern Indiana OB/GYN in 2019 with extensive prior experience in women's health, labor and delivery, post-partum and newborn care.
Nicole graduated with a MSN from Vanderbilt University in 2012 as a Nurse Practitioner in Women's Health, and most recently graduated from University of Indianapolis in 2014 with a Post-Graduate Certificate in Nurse Midwifery.
Nicole is a Columbus, Indiana native and deeply values the health of women and children in our community. Nicole cares for women from adolescence across the lifespan through menopause and beyond. She takes special interest in the natural birthing process as well as incorporating family into care throughout pregnancy, during labor and delivery and into the postpartum period. Nicole values the individuality of every birth and works to tailor the birthing experience to each family. When she is not caring for women, Nicole enjoys traveling and spending time with family.
Back to Search Results