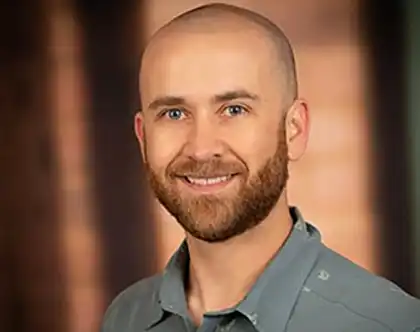 Make an Appointment
Accepting
New Patients
Specialties
Emergency Medicine
Gastroenterology
Physician Group
Columbus Regional Health Gastroenterology
Contact
Location
2326 18th Street, Ste. 210
Columbus, IN 47201
Get Directions
Education & Training
Education University of Minnesota - Twin Cities (BS in Microbiology); Shenandoah University (MS in Physician Assistant Studies); University of North Carolina - Chapel Hill (MBA)
Board Certification Physician Assistant
Ricky Martin is a board-certified physician assistant who has been working and living in our wonderful community of Columbus since June 2016. He is happily married with 4 children. In his free time, he enjoys connecting with the community through friends and church, reading, practicing his guitar, and traveling/hiking/backpacking with friends and family.

Originally from Waukesha, Wisconsin, he moved to Minneapolis to attend college earning a BS in microbiology in 2008. He then moved to Winchester, Virginia for Physician Assistant school in 2009, graduating in 2011. After graduating from his physician assistant program, he commissioned as an active-duty officer in the United States Air Force working in the family practice and emergency medicine specialties both in Las Vegas, NV and Minot, ND. Ricky was honorably discharged with the rank of Captain.

After separating from the Air Force, as fate would have it, Ricky ended up moving to Columbus, IN, and joined CRH. After an additional 4 years of emergency medicine, Ricky transitioned to the CRH Gastroenterology practice with Dr. Barrett and Dr. Raymer in 2019.

Ricky's family and network have expanded in Columbus, and he is thrilled to be a part of CRH Gastroenterology team!
Back to Search Results