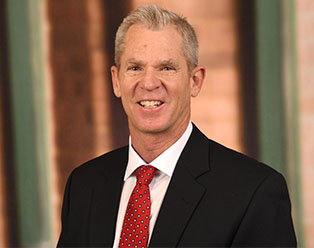 Make an Appointment
Accepting
New Patients
Specialties
Orthopedic Surgery
Sports Medicine
Physician Group
Columbus Regional Health Orthopedics and Sports Medicine
Contact
Location
2326 18th Street, Suite 130
Columbus, IN 47201
Get Directions
Education & Training
Education Depauw University 1980-1984, BA; University College of Medicine, 1984-1988, MD
Board Certification American Board of Orthpedic Surgeons
Residency Southern Illinois University
Fellowship Associated Orthopedics and Sports Medicine, Plano, Texas
Meet the Physician
Dennis Brock had been bothered by his knees for most of his adult life. After a visit to the emergency room for severe pain in one of his knees, he was referred to orthopedic surgeon Dr. Scott Slivka who discussed treatment options with him. Dennis chose to have his knees replaced, and is now able to do the things he loves again. "My quality of life is great," he said.
Biography
Dr Slivka was born in Cincinnati, Ohio. He obtained his undergraduate degree at DePauw University in Greencastle, IN, and completed medical school at the University of Cincinnati in 1988.
He performed his orthopedic training at the Southern Illinois University School of Medicine, and the University of Southern California. He received additional fellowship training in Sports Medicine In Dallas, TX.
Upon completion of his orthopedic training in 1995, Dr Slivka practiced in Columbus, IN for 2 years. Serving in the US Army Reserves for 12 years, Dr Slivka's time in Columbus was interrupted by deployment overseas. Since that time he has practiced in the greater Cincinnati area and is now excited to return to Columbus, IN.

He specializes in orthopedic surgery (adults and children), sports medicine, minimally invasive adult reconstructive surgery and joint replacement, arthroscopic surgery, management of traumatic and degenerative conditions of upper and lower extremities, and carpal tunnel syndrome
Dr Slivka has been interested in medicine and surgery since an early age. He chose to pursue the field of orthopedics because it allows the physician to interact with a wide variety of patients, develop long relationships with patients, and allows physicians the opportunity to combine ever-evolving technology with the goal of keeping patients active and pain-free.
His hobbies include spending time with family, running, cycling, mountain sports, and fly-fishing.
Back to Search Results