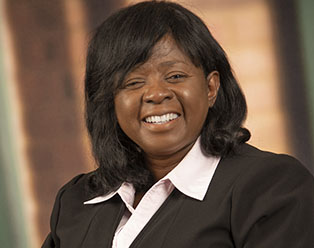 Make an Appointment
812-375-3784
Accepting
New Patients
Specialties
Addiction Medicine
Licensed Clinical Social Worker
Physician Group
Treatment and Support Center
Contact
812-375-3784
Location
2630 22nd Street
Columbus, IN 47201
Get Directions
Education & Training
Education Doctorate of Philosophy degree in Social Work at the University of Illinois at Urbana-Champaign; Master of Social Work degree at Andrews University; Bachelor's degree in Psychology at the University of New Orleans
Board Certification Licensed Social Worker
Sharen M. Pierre Waters, PhD, completed a Bachelor's degree in psychology at the University of New Orleans, a Master of Social Work degree at Andrews University in Berrien Springs, Michigan, and a Doctorate of Philosophy degree in Social Work at the University of Illinois, at Urbana-Champaign.

Dr. Waters joined the Treatment and Support Center in June 2019, after providing hospice palliative care over a decade in southern Indiana. Her areas of specialty are interpersonal communication, grief and loss.

She grew up in New Orleans and loves Indiana, where she enjoys spending time with her husband and tiny Maltese pup, boating, nature, writing, and being grateful.
Back to Search Results