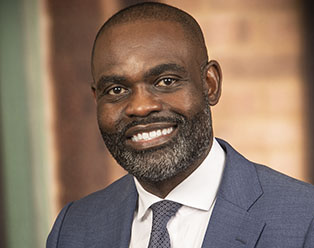 Make an Appointment
Accepting
New Patients
Specialties
Orthopedic Surgery
Sports Medicine
Physician Group
Columbus Regional Health Orthopedics & Sports Medicine
Contact
Location
2326 18th Street, Suite 130
Columbus, IN 47201
Get Directions
Education & Training
Education Downstate Medical Center, Brooklyn, NY
Board Certification Orthopedic Surgery
Residency Howard University Hospital,
Orthopedics & Rehabilitation
(Washington, DC)
Fellowship Vanderbilt University Medical Center,
Sports Medicine and Shoulder Surgery (Nashville, TN);
University of Colorado,
Hip Preservation
(Boulder, CO)
Meet the Physician
Amy Clayburn shares her story about an ongoing problem with her shoulder that severely limited her range of motion. Orthopedic surgeon Dr. Woodley Desir performed a total shoulder replacement surgery to return Amy's full range of motion in her shoulder, allowing her to get back to doing the things she loves. "Dr. Desir gave me my life back," she said.
Biography
Woodley Desir, MD, is a fellowship-trained orthopedic surgeon and specializes in sports medicine and shoulder surgery, as well as hip preservation, arthroscopy, reconstruction, and regenerative medicine.

Dr. Desir received his fellowship training at Vanderbilt University Medical Center in Nashville, Tennessee, and the University of Colorado in Aurora, Colorado.

He has provided professional, collegiate, and high school team coverage in Nashville, Tennessee, for hockey, baseball, football, and women's lacrosse.
Back to Search Results