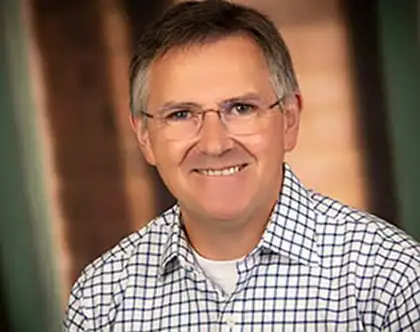 Make an Appointment
Accepting
New Patients
Specialties
Neurology & Sleep Sciences
Physician Group
Neurology & Sleep Sciences
Contact
Location
1655 N. Gladstone Ave, Ste A
Columbus, IN 47201
Get Directions
Education & Training
Education University De Pais Vasco, Basque Country, Spain
Board Certification American Board of Psychiatry and Neurology
Residency Indiana University Medical Center
Fellowship Indiana University Medical Center
Languages | Speak
Basque, Spanish, English
Dr. Beristain received his medical degree from the University of the Basque Country, Spain in 1989. He trained in neurology in Spain and graduated in December 1993.

He came to Chicago, IL in February of 1994 to do research at the University of Illinois at Chicago (UIC) for 2 years. He met his future wife in Chicago, an Indiana native, and to be able to work as a neurologist in the US he had to do an internship and a Neurology residency, again. He did his internship at Ball Memorial Hospital (July 1996-June1997) and residency in Neurology at Indiana University in Indianapolis (July1997-Jun 2000).
He received extra training in Movement Disorders as a fellow at Indiana University (July 2000 to June 2001). He then joined the faculty at Indiana University Department of Neurology where he was assistant professor for almost 3 years, until July 2004.

After 3 years in academic medicine he joined a busy private practice group in Indianapolis where he worked from July 2004 until July 2012.

At that point in his career, he felt it was time for a change in lifestyle and a better balance between work and family life. With this in mind and looking for the great outdoors, he and his wife moved to Maine where he worked from July 2012 until August 2014 at Maine General Hospital in Augusta, ME. The Maine experience was rewarding in many ways but family ties pulled stronger than the good things Maine had to offer.

He was back living in Central Indiana by the end of Summer of 2014 while working at Loyola University in Chicago. He was an Associate Professor of Neurology at Loyola University until November of 2016. Distance made the experience untenable long term and he and his wife decided to never again allow work to get in the way of being under the same roof every day.

In that context the opportunity came to work as a neurologist at a coastal town in Florida. The dream of living by the sea was alluring as Dr. Beristain grew up in a beachside city in Northern Spain. After more than five years in Florida, from December 2016 to May 2022, two hurricanes, a pandemic, and losing his father-in-law to cancer, the big decision to come back home to Indiana was a no brainer for him and his wife. They are happy to finally live by family and be home again.

Dr. Beristain has many hobbies and interests; he has been an avid runner most of his adult life and he also enjoys water sports, kayaking, stand up paddle, biking, hiking, cooking and painting.
Back to Search Results