Are you in isolation or quarantine because of a COVID-positive test or exposure and wondering when to seek care? In urgent or emergency situations you should always seek immediate medical attention; just let our care teams know about your positive result upon arrival. If you are symptomatic and have a procedure or service already scheduled with us, please contact your physician or the office that scheduled your service, and inform them of your positive result with symptoms. The care team will advise you of your best approach to care during your time of isolation.

COVID-positive without experiencing symptoms? Columbus Regional Health is pleased to offer several options for you to keep on top of your health and medical appointment safely. Contact your physician or service center and the care team will assess what's best for you during your time of isolation. We also offer virtual appointments for a variety of primary and specialty care needs.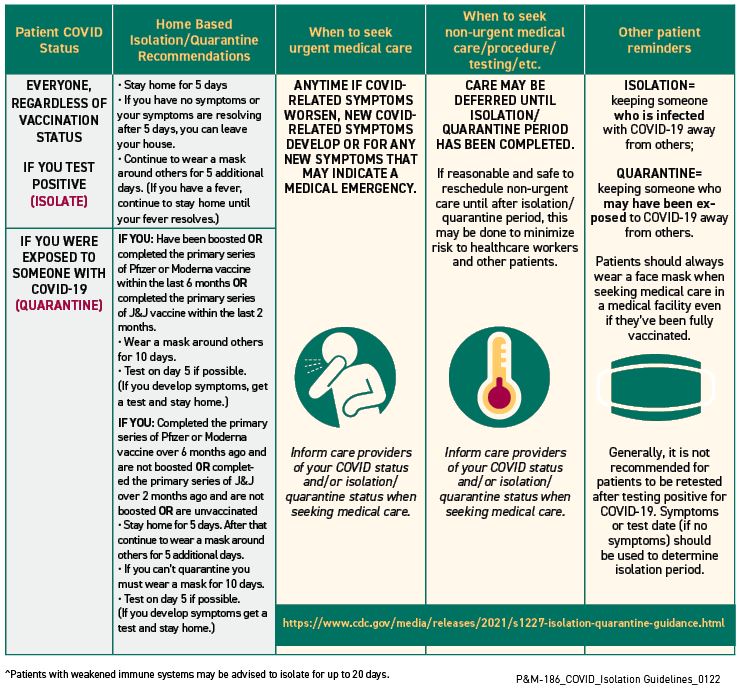 COVID-19 TESTING PROTOCOLS

IF YOU TEST POSITIVE (ISOLATE)
EVERYONE, REGARDLESS OF VACCINATION STATUS
Stay home for 5 days

If you have no symptoms or your symptoms are resolving after 5 days, you can leave your house.

Continue to wear a mask around others for 5 additional days. (If you have a fever,
continue to stay home until your fever resolves.)

IF YOU WERE EXPOSED TO SOMEONE WITH COVID-19 (QUARANTINE)

IF YOU: Have been boosted OR completed the primary series of Pfizer or Moderna vaccine within the last 6 months OR completed the primary series of J&J vaccine within the last 2 months.
Wear a mask around others for 10 days.

Test on day 5 if possible. (If you develop symptoms, get a test and stay home.)

IF YOU: Completed the primary series of Pfizer or Moderna vaccine over 6 months ago and are not boosted OR completed the primary series of J&J over 2 months ago and are not boosted OR are unvaccinated
Stay home for 5 days. After that continue to wear a mask around others for 5 additional days.
If you can't quarantine you must wear a mask for 10 days.
Test on day 5 if possible. (If you develop symptoms get a test and stay home.)