Talk With Our Providers
You don't have to speak robot.
Schedule a consultation online or by calling one of our practices.
schedule a consultation
CRH Orthopedics
and Sports Medicine
2326 18th Street, Ste. 130
Columbus, IN 47201
Southern Indiana Orthopedics
940 N. Marr Road, Ste. C
Columbus, IN 47201
See how they're fixing joint pain.
Robotic-assisted surgery isn't a plot for the next sci-fi blockbuster. Our Mako and ROSA robotic systems are bringing the future of hip and knee replacement right here to Columbus – and it's a bright one.
As an Anthem Blue Cross Blue Shield Blue Distinction Center, you can always count on our world-class orthopedic surgeons to deliver exceptional care, and our new robots are just one way we do that. We're proud to be the only medical facility in south central Indiana to offer both the ROSA and Mako robotic surgery systems, so you can get advanced care right here at home. The next time you hear there are robots among us, you'll know there's nothing to be afraid of.
Robotic-assisted procedures enable our orthopedic surgeons to provide quicker recoveries with less pain. That means more walks, bike rides, and everything else that comes with moving easily again.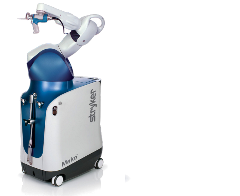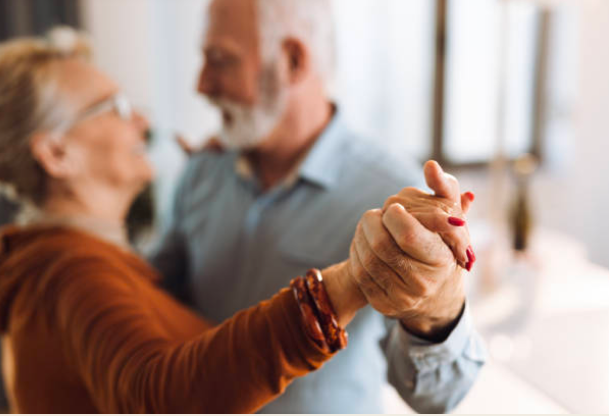 We Come in Peace
Here's how our robots help you.
When joint pain surfaces, the priority is finding quality care that helps you move with ease again. Robotic-assisted hip and knee replacement is how we get there.
ROSA Knee is a robotically assisted surgical system designed to help our expert orthopedic surgeons perform total knee replacement surgery. Surgeons use computer and software technology to control and move surgical instruments, allowing for greater precision and flexibility during procedures.
The Mako SmartRobotics system combines three key components – 3D CT-based planning, AccuStopTM haptic technology, and insightful data analytics – into one platform that has shown better outcomes for total knee, total hip, and partial knee patients.
Once you schedule a consultation, your surgeon will assess your needs and determine if robotic-assisted surgery is right for you, as well as which system would be best for the procedure.
Beep Boop Bop
That's code for "benefits of robotic surgery." You'll catch on.
Increased accuracy compared to traditional surgery
Better implant positioning, which can result in a more natural-feeling joint after surgery
Potential for better long-term satisfaction and outcomes
Faster recoveries and less time in the hospital to get you moving more quickly
Take Me to Your Leader
For every robot, there's an exceptional surgeon.
Our robots may be integral to joint replacement, but it's our world-class orthopedic surgeons who are leading the charge. With 100 years of collective expertise, our team has the knowledge, training, and prowess to make sure every procedure is as smooth as possible. We successfully perform hundreds of hip and knee replacements every year, and the addition of these robots will help us deliver even better results in the future.
Frequently Asked Questions
No referral is needed. Same day appointments are available.
You will be given a physical exam, and our staff will record your medical history. Any images will be reviewed, and we will discuss treatment options.
Recovery from surgery is typically 8 to 12 weeks.
Schedule a consultation
Talk to our surgeons to see if robotic-assisted surgery is right for you.
Schedule a consultation
Talk With Our Providers
You don't have to speak robot.
Schedule a consultation online or by calling one of our practices.
schedule a consultation
CRH Orthopedics
and Sports Medicine
2326 18th Street, Ste. 130
Columbus, IN 47201
Southern Indiana Orthopedics
940 N. Marr Road, Ste. C
Columbus, IN 47201