Welcome to a healthier lifestyle
At WellConnect, we believe a half hour of wellness can connect you with a healthier way of life. That's why we offer classes like yoga and body sculpting at $2 a session, along with cooking demonstrations and health education sessions.
Class Descriptions

PiYo
A combination of Pilates and Yoga used to increase core strength and range of motion.
Chair Yoga
A multi-leveled class designed to improve body alignment and balance while performing yoga postures.
Vinyasa Yoga
Perform a series of Yoga postures to increase flexibility and strength. Create a flow of movement with postures to increase body temperature and heart rate. Participants must be familiar with yoga postures.
Cut to the Core
Targets muscle groups in the core to improve strength and posture. Sit ups, planks and other exercises will be performed.
Yoga
Designed to meet flexibility goals for participants of all levels. Great class to learn and master the basic yoga postures. Must be able to move from standing to floor with ease.
Floor Core More
Targets muscle groups in the core while adding some upper body exercises to improve strength and range of motion.
Step
This class uses an elevated platform with choreographed step combinations to increase heart rate and build cardiovascular endurance.
Beginner Muscle
Learn the basic fundamentals of resistance training. Major muscle groups targeted.
Barre Basic
This class is a fusion of strength training, ballet, Yoga, and Pilates in a class format where participants are instructed to train through full range of motion. Barre provides a non-impact activity to improve muscular endurance while improving posture.
Body Sculpting
This class uses low resistance to sculpt and tone the body. Participants will perform continuous movement to build muscle, increase body temperature and elevate the heart rate. Light weights, low reps and intensity variations are demonstrated for different fitness levels.
50/50
This class is a perfect blend of strength and cardio using all the new trends in fitness.
Horizontal Conditioning
Your body weight will be all the resistance you need in this basic, but challenging class. If you seek defined muscles and an incredibly strong core to tone your body from head to toe don't waste another minute, get horizontal now!
Piloxing
Try the latest Hollywood fitness craze! Piloxing uniquely blends the power, speed and agility of boxing with the beautiful sculpting and flexibility of Pilates. It is a fat torching, muscle sculpting, core-centric interval workout guaranteed to whip you into shape.
Tabata
Harnesses short duration high intensity exercises in a series to increase the after burn effect. Major muscle groups are targeted with this high-intensity workout. This is a small group training class to help promote and sustain success in long-term exercise adherence. Modifications are given for various fitness levels.
Tabata Yoga
Tabata alternates between work and rest periods in a sequence of eight repetitions. This practice lends itself to yoga: holding a pose for 20 seconds, then resting for 10 seconds and repeating brings one to nirvana. Experiencing the link between yoga poses and Tabata will add to your existing yoga practice.
Gentle Yoga
Learn the basics of practicing Yoga postures. Learn to fit the postures to meet your needs. No experience necessary.
Learn Yoga
This class is perfect for those who have never done yoga and want simple, basic instruction. You will gain mind/body awareness in an environment that enables you to learn without intimidation. Learn how to use breathe and movement to accomplish physical growth.
Trigger Point Release
Myofascial release is a form of soft tissue therapy that involves applying sustained pressure into myofascial tissue to eliminate pain, restore motion and release restrictions.
Yoga Flow
Move through a series of Yoga postures to improve strength, flexibility and range of motion. Participants must be able to move from standing to floor exercises to be successful in this class.
Restorative Yoga
Restorative Yoga is defined as Yoga postures completely supported by props, thus releasing the body to rest in the pose for longer periods to receive deeper benefits and encourage the body's innate healing. Restorative Yoga can be challenging for beginners.
Muscle Amp
Designed to increase muscular strength while adding short bouts of cardio activities to increase heart rate and build cardiovascular strength.
Pilates
This class is designed to increase strength of the core. This class may not be appropriate for those recovering or suffering from any type of back injury.
Education Sessions (Lunch & Learn)
WellConnect offers education sessions to help you take control of your health and well-being. To find a listing of upcoming education sessions, go to the CRH Events Calendar. The schedule can also be downloaded here. A registration link is included in each class description. Seating is limited and registration is required.
CRH Events Calendar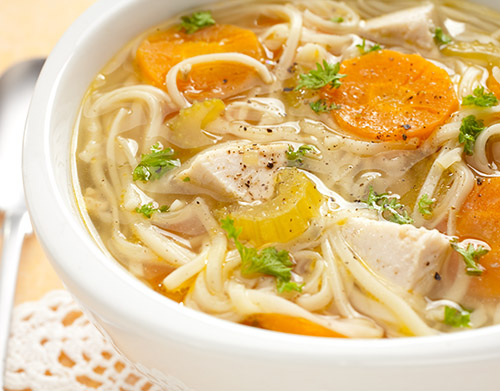 Healthy Recipes
Chicken Noodle Soup
Ingredients
1 Tbsp. oil
1 small onion, diced
1 rib of celery, diced
1 medium carrot, diced
1 small clove garlic, minced
½ tsp. black pepper
½ tsp. salt
7 cups chicken broth
10 oz. diced cooked chicken (about ½ breast, 1 thigh & 1 drumstick)
4 ounces noodles
1 Tbsp. fresh parsley, finely chopped

Directions

Directions: Dice onions, celery, and carrots. Mince garlic. Saute onions, celery, carrots and garlic in oil. Add black pepper, salt, chicken broth, and diced chicken. Heat to a gentle boil. Add noodles and cook until done (8 -10 min). Garnish with fresh parsley.

Nutrition Info (per 10 ounce serving)

Calories: 120
Total Fat: 3g
Sat Fat: 0g
Cholesterol: 30mg
Sodium: 160mg
Carbs: 13g
Protein: 10g
Download recipes
Seared Salmon with
Snow Peas
Blueberry Orange
Muffins
Candied Walnuts
Chicken Noodle Soup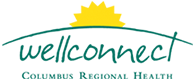 Connect With WellConnect
1-812-343-9840