Overview
At Columbus Regional Health, we are taking systematic steps to evolve the way we deliver healthcare. For the past several years, innovation has been a central strategy for moving CRH forward.
From the ways we save on energy costs, to the ways we deliver medicine to our patients, to the ways we detect cancer earlier than ever, innovation fuels our continued progress.
Inspired to think beyond
We opened our Innovation Center at Columbus Regional Health to be a catalyst for continuous innovation. Our Innovation Center is a place where our staff is inspired to think beyond the ordinary and solve problems in a new way. It is where we work to make the delivery of healthcare more compassionate, less complicated, more affordable, more predictable and always state-of-the-art.
The center combines innovation and simulation into a central location. Our Lean/Six Sigma and clinical simulation/education teams use tools in design thinking, Lean, and Six Sigma to collaborate, test, and adopt best practices faster.
Our Simulation Lab within the Innovation Center provides enhanced medical learning based on major teaching institutions such as Mayo Clinic and Kaiser Institute. Clinical and non-clinical teams use programmable human-like mannequins in simulated patient environments to create real life healthcare scenarios. The Simulation Lab allows for rapid prototyping and testing of new ideas before they are used in patient care or in the community. It's about perfecting skills, adapting techniques and testing new ideas to deliver smarter healthcare.

Innovation to us is the process of using new ideas to make something better. It's all about adding value to our patients and their families, to our physicians and employees, and to our community.




Innovation Report
"If there is a better way, we will find it, and we will implement it."
- Jim Bickel, Chief Executive Officer
After studying, visiting and engaging with other organizations known for quality and innovation, we have trained and empowered every member of our staff to become a source of innovation.
Learn more about how people, places, projects, processes and partners are making CRH patient care better.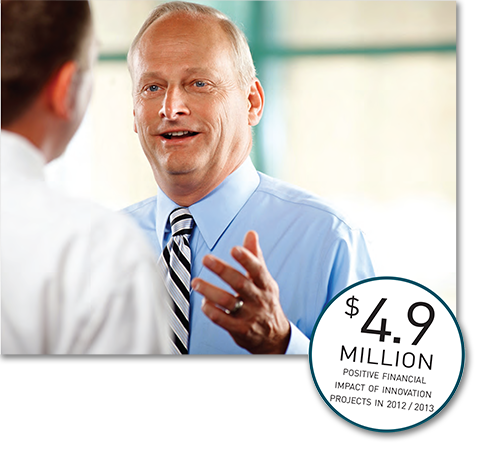 Download Progress
Report
Intentional Innovation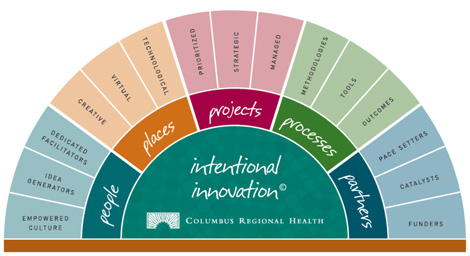 We believe that for innovation to be intentional, we need to grow our innovation expertise in five fundamental areas or success factors. We call it our Intentional Innovation Framework: People, Places, Projects, Processes and Partners.
Read more
Innovation
Scorecard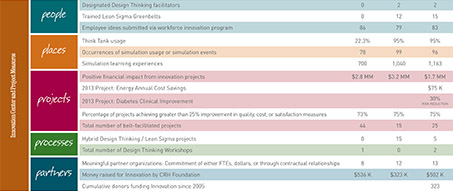 We measure our performance annually with an Innovation Scorecard. Measures include both annual short-term project measures as well as long-term health system performance measures on cost, quality, satisfaction and market differentiation, which we will track over time.




Download scorecard
Innovation
In Action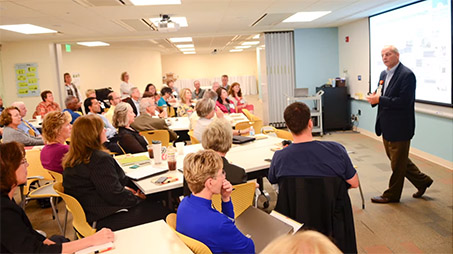 Our pursuit of innovation and excellence is embedded in every action and connection we make to give people the very best health and wellness experience. That's why at Columbus Regional Health, we use innovation to create, adapt and test ideas to deliver smarter healthcare. Innovation is not just a buzz word for us. It is one of our core values and is part of our daily work processes.



Read more