Marketing & Publications
Our goal is to provide our community with accurate and timely information about Columbus Regional Health as well as innovations in medical technologies and healthcare practices. We can arrange for interviews with physicians and other Columbus Regional Health medical professionals, and we also can provide access to leaders of our innovative programs and health centers.

For media inquiries, please contact Kelsey DeClue.
Connect With Us
There are many ways to stay current with information and things happening here at Columbus Regional. Below are some of the new ways you can stay "in the know" with CRH. Remember: more channels are arriving all the time, so be sure to check back and see what is new!
Medical Staff Directory
Our vision is to be your health and wellness partner for life, and our excellent medical staff is integral to our pursuit of excellence to offer patients the very best. In addition to highlighting our medical staff, this directory includes contact information for hospital services and departments and information about Columbus Regional's high-quality care.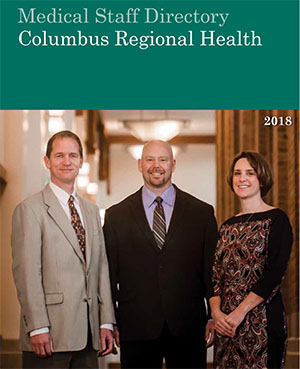 Download Directory
Healthy Tomorrow
Healthy Tomorrow is a quarterly magazine and online blog published by Columbus Regional Health. Articles focus on important health topics, fun features like quizzes and recipes, and the information you need to help you and your family live well and stay healthy.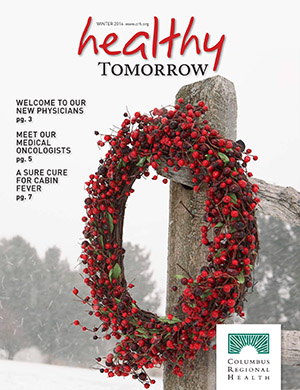 Read the Healthy
Tomorrow blog
Annual Report
Columbus Regional Health is in the midst of a year-long reflection on our rich history of healthcare and community involvement as we celebrate our 100th anniversary. This historical dive has provided multiple trips down memory lane for current and past employees, active and retired physicians and community members, but it has also reaffirmed our mission and vision as a health system.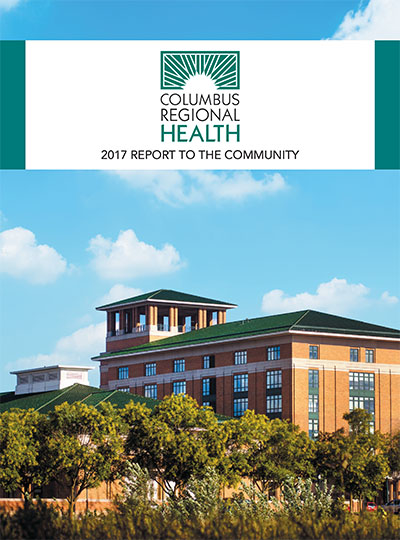 Read Report
Columbus Regional Health Logo
The name "Columbus Regional Health" was introduced in November 2011 as the health system structure name for Columbus Regional Hospital and related affiliated practices. Columbus Regional Health was introduced to better describe the health system of physician offices, hospital, outpatient centers, and others.
Click here for details and downloads
Photos for Media Use