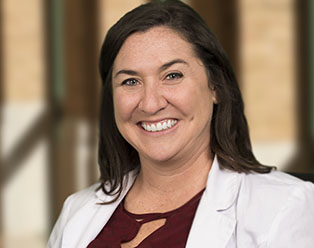 Make an Appointment
Specialties
Family Nurse Practitioner
Physician Group
MyCare Family Med
Contact
Location
4001 Goeller Boulevard
Columbus, IN 47201
Get Directions
Education & Training
Education IUPUC (BSN); Indiana Wesleyan University (MSN)
Biography
Abra Black began her career as a Licensed Practical Nurse in August 2009 and furthered her education by obtaining her Associates of Science in Nursing – Registered Nurse in May 2011. She later completed her Bachelor of Science in Nursing at IUPUC in May 2012.
Abra worked as Registered Nurse for a cardiothoracic vascular transplant unit at St. Vincent most of her career until she finished her Master's of Science in Nursing, Family Nurse Practitioner in June 2018 at Indiana Wesleyan University. She joined MyCare Family Med in October 2018.
Abra has worked with the adult population most of her career, but she enjoys treating children as well. She loves anything Colts-related and enjoys playing coed softball and watching the Pacers and IU. Abra has a son Keegan, and her fiancé Josh has a daughter Lila.
Back to Search Results