Contact Us
Marr Rd. Outpatient Center
812-372-3035

940 North Marr Road
Columbus, IN 47201
Get Directions
Mill Race Center
812-376-5300

900 Lindsey Street
Columbus, IN 47201
Get Directions
Overview
Occupational Therapy Services focus on treatment to maximize function for the involved individual to return to normal daily activities with self-care, home management, work and leisure activities with an emphasis on the shoulder, elbow, wrist and hand.

This is accomplished through pain control and decreasing swelling, increasing movement and strength, preventing re-injury and providing patient education.
Specialty Treatments and Equipment include: Baltimore Therapeutic Equipment, ASTYM soft tissue mobilization, Fluidotherapy, splinting.
Hand and Upper Arm Rehabilitation Program
Post-Trauma rehabilitation
Orthopedic procedures and surgeries
Wrist fractures
Cumulative trauma
Burns
Acute and chronic injuries
ASTYM and soft tissue mobilization
Lymphedema
Vestibular
Neurological Conditions
Certified Hand Therapist
Work Related Injuries
The Inpatient Rehabilitation Unit at Columbus Regional Hospital is a specialized unit dedicated to people recovering from strokes, amputations, brain and spinal cord injuries, orthopedic procedures and other debilitating conditions. Patients include those who are still medically fragile, have severe functional impairments, required post-operative care, and need the 24-hour medical support of a hospital facility. High intensity medical management, nursing and rehabilitation therapies are provided daily to meet patient's needs.
For questions about Acute Inpatient Rehabilitation, please call Pre-Admission Screening at (812) 376-5589.
An occupational therapist, or OT, is part of the multidisciplinary rehabilitation team and often directs the following types of care: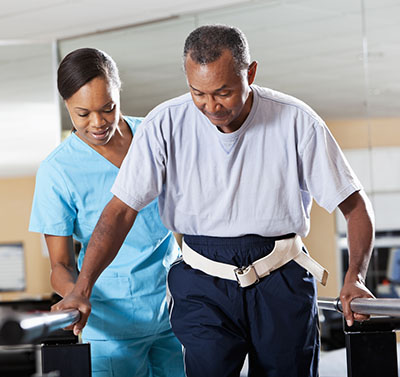 Evaluates children with developmental or neuromuscular problems and helps plan treatments that will help them grow mentally, socially, and physically

Assists adults in learning how to carry out activities of daily living (ADLs) at home, on the job, and in the community

Helps the elderly adjust to the special problems of aging while remaining physically and mentally active

Recommends changes in layout and design of the home, school, or workplace to allow people with disabilities greater access and mobility

Teaches energy conservation and work simplification methods

Improves communication skills, such as reading, writing, and using the telephone