Building For A Healthy Tomorrow
We're Building for a Healthy Tomorrow....
As the primary hospital and healthcare provider in our area for more than 105 years, Columbus Regional Health's expansion of facilities and services allows our organization to meet and exceed patient and community needs as they arise, and in the future.

Growing our physical footprint is just one way we are investing in our future, and in the communities we serve.
Project Updates
NEXUSPARK COMMUNITY DEVELOPMENT (FORMER FAIR OAKS MALL)
The City of Columbus and Columbus Regional Health have joined forces to build a dynamic community asset that will consist of a broad range of health, wellbeing, and recreation services and experiences. In short, we're breathing new life into a former indoor mall. We're programming something for everyone!
Wellness and recreation-based community spaces
City Parks and Recreation administrative and program use
Indoor sports complex with the addition of a 150,000 square feet fieldhouse.
Dining and retail
Medical office and treatment/exam space
Patient support and therapies services

For CRH, NexusPark will be a modern and dynamic care, treatment, and work environment, focused on wellness and preventive care, as well as connection and support services. The facility creates an environment that enhances care and patient experience.

Learn more about the site progress and all the amenities planned for NexusPark at www.nexuspark.org.
| Phase I | Phase II | Phase III |
| --- | --- | --- |
| PT/OT – Marr Road and Mill Race | Neurology & Sleep Sciences | Healthy Communities |
| OB/GYN Associates | BCSC Clinic | Other wellness and supportive services |
| VIMCare Clinic | Audiology | |
| Primary Care (selected practices) | Primary Care (selected practices) | Teaching Kitchen |
| WellConnect | | |
| Laboratory Services (Outpatient) | | |
| | | |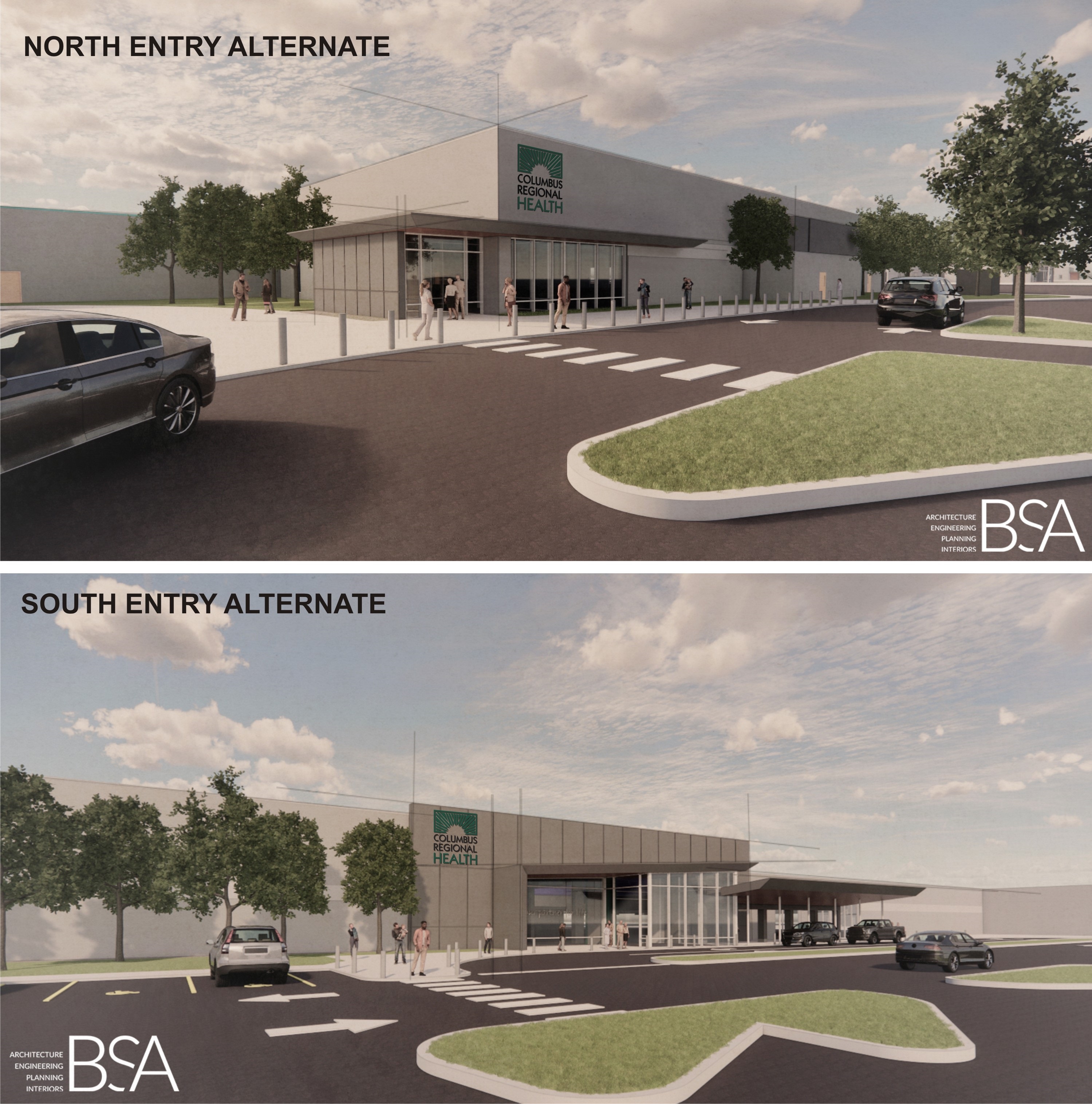 Background: The City of Columbus asked CRH in 2018 to partner with them in the ownership of Fair Oaks Mall, which was diminishing as a traditional retail mall. CRH owns 25 percent of the property and the City owns 75 percent, with Heritage Fund of Bartholomew County as a founding contributor.

State Road 46 West (former Clarion Hotel property)
Land preparation work continues. Crews are redistributing rubble and reuse materials to raise and flatten the land. Columbus Regional Health is moving forward with our facility and site plans to build a multi-specialty medical office building on a portion of the property, with the goal of having services in place in 2024.

Background: The Clarion hotel went bankrupt and closed in 2018. The property was then made available via a public auction. This land was one of the first larger property investments CRH made in order to position our health system for necessary growth, expansion of services and access for the ever-growing west side of Bartholomew County.
The hotel was in such poor state that it was demolished. You may recall that following the initial purchase of the property, we donated the majority of the former hotels contents to area non-profit agencies as a way to give back to the community.
Columbus Regional Health has been diligent in how that property is cleaned up and positioned for future development. This has added time but it is our priority to be good stewards of that land as we consider future uses of this site and how it can benefit economic growth. We have attempted to be environmentally-friendly as we work with this site and have been able to incorporate the reuse of rubble and construction waste from Interstate 65 projects as fill to help elevate the site out of the flood risk. Likewise, in working with the Army Corps of Engineers, we are replacing the displaced trees and surrounding wetlands at a 4-to-1 ratio.

West-Side Farm Property
A Land Use Planning Committee was formed to direct this work in 2019 and as a result, we identified approximately 150 acres on the site to preserve for our use. We will continue work with the broader community on uses for the remaining acreage. This work will occur over the next several years.
Background: The farm property represents a much longer-term opportunity for not only our health system, but also the broader community and region. We anticipate the need to expand beyond our current main campus on 17th Street as we look into the future; however, we know that we do not need to entire parcel for those needs. Careful consideration, analysis and strategy are required to determine the best use for the entire acreage as well as our future use.
Community Connections: Dr. Haile
Dr. Degaulle Haile shares his excitement for Nexus Park which will be the new home of OB/GYN Associates of Columbus.