Kidney Disease: What you need to know
Did you know our kidneys perform a life-sustaining job of filtering and returning to the bloodstream about 200 quarts of fluid every 24 hours?
These little workhorses of the human body filter blood and get rid of toxins (released in our urine), keep the right amount of fluids in the body, help make red blood cells and help keep blood pressure under control. Needless to say, our kidneys (each about the size of our fist) are pretty important. Yet, more than 37 million Americans suffer from kidney disease, and 40 percent of Americans are unaware they have kidney disease.
Chronic kidney disease
(CKD) is the gradual loss of kidney function. When CKD reaches an advanced stage, dangerous levels of fluid and toxic waste can build up in your body.
What are the symptoms of CKD?
Most people do not have severe symptoms until their kidney disease is advanced. Significant symptoms include:
-
fatigue and low energy
-
trouble concentrating
-
poor appetite
-
difficulty sleeping
-
muscle cramping at night
-
swollen feet and ankles
-
puffiness around your eyes, especially in the morning
-
dry, itchy skin
Of course, some risk factors make certain people more susceptible to kidney problems. African Americans, Hispanic, Asian, Pacific Islander, American Indians and Alaskan Natives are at a higher risk for developing kidney disease. Other risk factors include:
-
Diabetes
-
High blood pressure
-
Being 60 years or older
-
Having a family member with kidney disease, diabetes, or high blood pressure
Your primary care physician can help you monitor for healthy kidney function; and if you or a loved one is experiencing problems or symptoms, your doctor can refer you to a kidney specialist, also called a nephrologist. Advanced CKD needing kidney replacement is called end-stage kidney disease and is most often treated by
dialysis or transplant
.

How to keep your kidneys healthy

There are many things people can do to promote kidney health:
-
schedule regular appointments with your family physicians
-
keep blood sugar, blood pressure, and cholesterol under control
-
maintain a healthy weight
-
eat healthy meals
-
take all medicines as prescribed
-
exercise regularly
-
don't smoke
-
limit alcohol
-
avoid some over-the-counter medicines (such as Aleve, naproxen or ibuprofen)

Nephrology and Hypertension Services
Columbus Regional Health is pleased to offer an
excellent multidisciplinary care team
for both inpatient and outpatient nephrology and hypertension services, including inpatient, outpatient and in-home dialysis. Learn more about our excellent provider and care team and the wide range of treatments and services.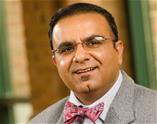 Dr. Jasuja
is the medical director for nephrology and hypertension services at Columbus Regional Health.
View All Success Stories

CRH News