Surprising Hiking Trails in Southern Indiana
Want to get out in nature but don't want to spend too much time traveling to get there? Some of the best hiking spots in Southern Indiana can be found a short drive away. Below are four destinations that are the perfect combination of proximity, visual beauty and overall hiking experience.
Jackson-Washington State Forest

If rugged gut-busting hill climbs and breathtaking overlooks are your idea of a good time, this 18,000-acre forest two miles south of Brownstown is exactly what you're looking for. To get your heart pumping right from the start, head to Trail 1 and make the mile-long trek to Pinnacle Peak (elevation 966 feet) for interesting topography and scenery that seems out of place for the region. From there, if you're too beat for more climbs, head over to Trail 10 for a more leisurely 3-mile loop (although you'll still encounter a few steep grades).
But if you're ready for more glute-building ascents, continue to Trail 2 and challenge yourself on High Point hill (elevation 985 feet). Those brave enough to continue will be rewarded with gorgeous views of the Jackson County countryside. Winding through the forest and back to the Gatehouse, pick up Trail 6 and continue toward Cypress Pond. At this point, don't be surprised if your legs are trembling like a newborn fawn, but thankfully things level out for a while here. Trail 6 passes by Lake Pyoca with a partial boardwalk trail, and it even takes visitors through the ruins of a historic home. Continue to Trail 10 and loop back to Trail 1 for an 8+ mile round-trip. For you FitBit wearers, don't be surprised if your "floor count" surpasses 200 flights by day's end.
This trail system is no joke, so be prepared with moderately rugged footwear, bottled water and other necessities. All trash must be carried out of the park, so plan accordingly.
See the Indiana DNR website for more activities.
Beanblossom Bottoms Nature Preserve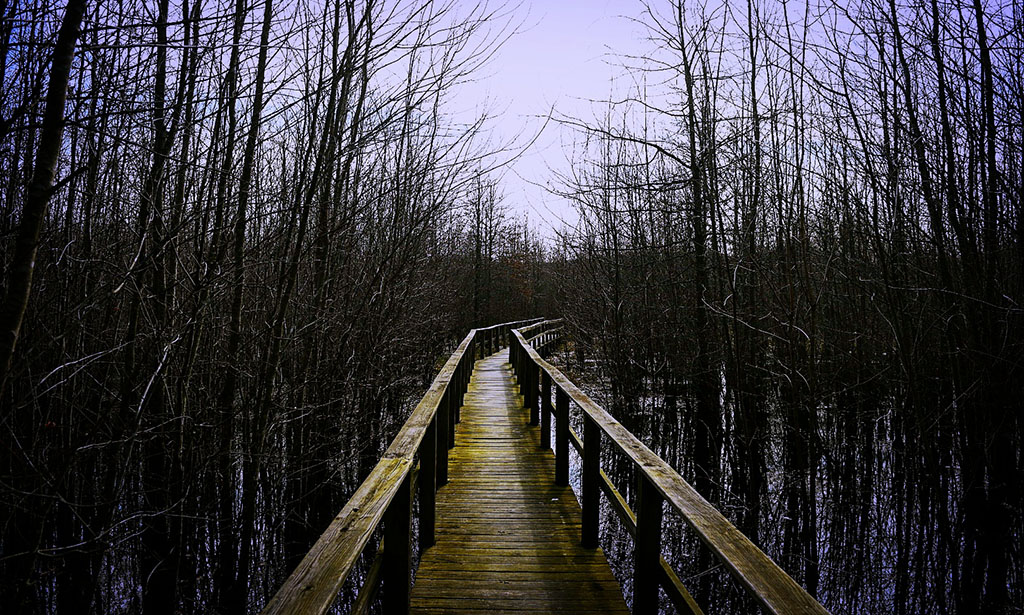 For something out of the ordinary, head a few miles north of Bloomington for a scenic 2.5-mile trail featuring a mile and a half of elevated boardwalk through this magical wetland preserve. Despite its comparatively short trail system, the uniqueness of well-maintained boards bending and sloshing under your feet combined with bustling bird activity and stunning wetland photo ops makes this destination well worth the trip.
Four raised observation decks along the Environmental Education Trail show off some of the park's brightest features, including "Swamp Deck," an aptly-named installation providing a glimpse at an otherwise inaccessible part of Indiana's diverse environment. In dryer months, visitors can continue off the boardwalk to a mowed trail leading to a pond teeming with wildlife.
Want to make a day of it? If you're up for more activity, try Bloomington's B-Line Trail for a 3-mile walk (6 miles round-trip) through the heart of the college town.
Visit the Sycamore Land Trust website for more info.
Clifty Falls State Park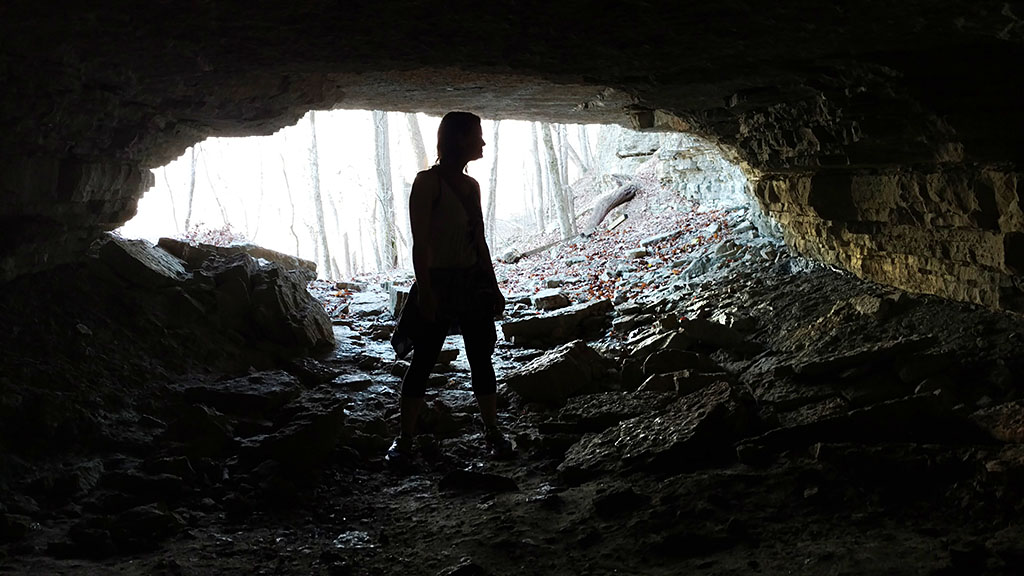 For those who have never been to this 1,519-acre Madison park, the obvious first stop is Clifty Falls at the north end of the canyon. But as veteran Clifty hikers know, that's only the beginning of the wonders to be explored here.
Tucked away in the middle of the park on the east side of the canyon is Tunnel Falls and the accompanying Brough's Tunnel, both accessible via Trail 5. Sometimes mistaken for a cave (because, well, it looks like a cave — even bats like to hang out there), Brough's Tunnel is actually a failed construction project from the 1850s that attempted to make way for a rail line. The tunnel has a low ceiling and is nearly completely dark in parts, so bring a hard hat and a flashlight (or a spelunker's helmet if you're so inclined) if you plan to explore. The tunnel is open May 1 through Oct. 31.
Looking for something more challenging? From Trail 5, pick up Trail 2 and descend to Little Clifty Creek. This "trail" follows the creek (more correctly stated, this trail is the creek) where explorers can hike north to the Clifty Falls observation area for a dazzling ground-level view of this huge cascade on display. As the creek route nears the falls, rocks become enormous boulders and, at times, hiking graduates into low-grade rock climbing. If this effort robs your stamina, you won't be happy to learn there is no way out except to head back from where you came. And don't be surprised if your feet get wet, so packing a change of socks and shoes is a good idea. Remember, hiking safely and comfortably is about being prepared for any situation.
For a full list of activities, visit the Indiana DNR web site.
Park admission: $7 for vehicles with Indiana license plates
Rose Island and Charlestown State Park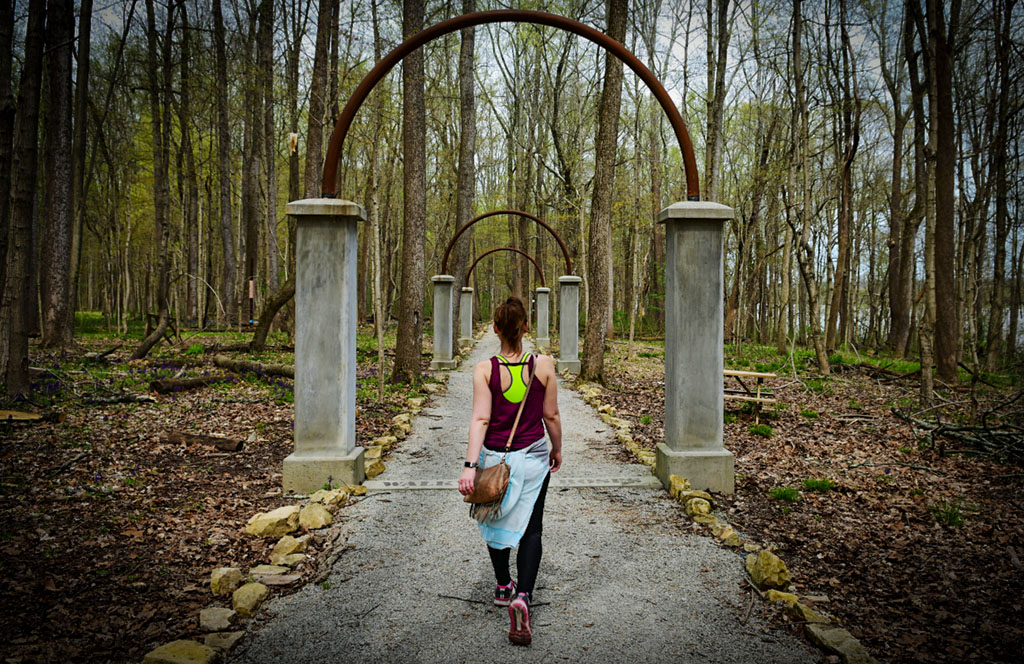 Remnants of a theme park destroyed by flood create a unique hiking experience on the banks of the Ohio River in Clark County. Rose Island at Charlestown State Park paints a vivid picture of grand days gone by with a guided audio tour and thoughtfully-placed timeline displays depicting the history of the site. Once a hotbed of activity in the late 1800s and early 1900s, the river destination slowly declined in popularity during the Great Depression before mother nature reclaimed the island (which is technically a peninsula) in the devastating Ohio River flood of 1937.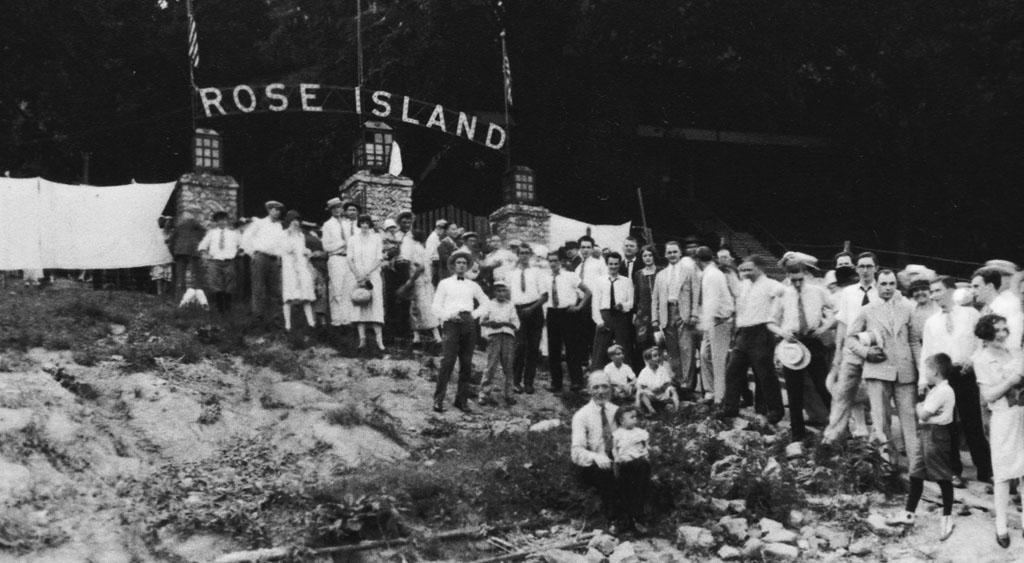 The trail system around Rose Island is just under a mile long, so hikers eager for more to explore should look no further than the adjacent Trail 3. This is also a great alternative to taking the long climb back up the paved trail down to Rose Island, which is incredibly steep. In the spring, hikers are greeted with a vibrant wildflower display as the narrow trail meanders through the wilderness beside Fourteenmile Creek.
There is much to explore at Charlestown State Park, and a visit wouldn't be complete without continuing to the Riverside Overlook. From there Trail 6 can be accessed, which follows the Ohio with commanding views from atop the rugged river bluff.
Park admission: $7 for vehicles with Indiana license plates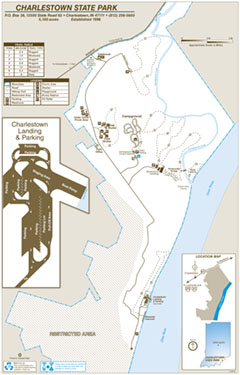 Click map to download
Ready to get out there?
Great! If it's been a while since you've exercised or have health concerns, it's a good idea to check with your primary care provider before starting a new exercise regimen or heading out to conquer the knobby Indiana countryside. Don't have a doctor? Check out our Find A Doctor section.
Want more hiking-related articles?
View All Success Stories

CRH News