Throughout early motherhood, Martha DeClue made it a goal to get the family to church each Sunday; well, more often than not. Steadfast in their Catholic faith, Martha and her late husband, Leonard, raised their family throughout rural and urban Columbus and Bartholomew County.
These days, church in its traditional, in-person form is one of the pre-pandemic luxuries Martha misses the most. That, and big family dinners with as many members of her greatest legacy: seven children, 13 grandchildren and 17 great-grandchildren, complete with in-laws and add-ons along the way.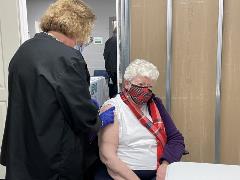 "I can't wait to line everybody up and give everyone a hug one-by-one, down the line," Martha said, at the
COVID-19 Vaccination Clinic at Columbus Regional Health
on Jan. 12. "You know, I didn't feel a thing. I can't look at (the needle) when it goes in, but I was a little worried about this one, because the needle on television looked so long. But I didn't feel a single thing. It was easy.
"Of course, I usually don't have any issues with the flu shot either."
In the mid-1940s, just at the close of World War II, Martha worked at the general store at Atterbury Air Base. It's where she and Leonard, a military policeman, met. In her more than 90 years, she has lived through numerous wars and military conflicts – Pearl Harbor remains among the most vivid – and economic highs and lows, including the Great Depression. She has survived a handful of national and global pandemics, including Polio and Small Pox, and the damaging effects left on individuals and economies. With each, she has witnessed the fervent national and international attempts to end or slow the devastation. So yeah, Martha was getting this vaccine. One of her daughters who lives in Columbus watched the Indiana State Department of Health website to help sign up her mother.
Throughout the past year, Martha said her large family did "the best we could," to maintain connections and celebrate holidays. They conducted a drive-by parade in the spring, when much of the community was in quarantine mode. There have been months of Zoom calls and Facetime group chats. On Halloween, many of the great-grandkids stopped by to display costumes and wave from a safe distance, while others shared pictures and video chats. Martha admits even she couldn't imagine the course of the past year since COVID-19 hit. "Oh yes, I'm ready for this to be over," she said. "I just want things to be back to normal."
The day following her first dose, Martha was pleased to report no side effects and is looking forward to her second round in a few weeks time.